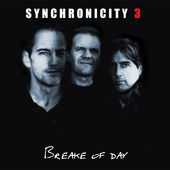 Breake of Day
Autore: musiche di Sergio Chierici su testi di John Donne (1572-1631)
Esecutori: Synchronicity3 (Sergio Chierici, voce e tastiere; Marco Scala, Basso; Massimo Brunetti, batteria); vocals: Sara Piastri, Anna Caprioli
Formato: Album digitale
©2012 EMA Vinci
Da un trio che ridefinisce il modo di omaggiare il gruppo inglese dei Police, una nuova idea di canzone che sfrutta una delle fonti letterarie dei testi di Sting: le poesie seicentesche di John Donne.
1 Breake of Day 3:23
2 Song (Soul's Joy) 4:13
3 Negative Love 3:19
4 The Token 3:21
5 The Apparition 2:58
6 The Triple Foole 3:38
7 Loves Alchymie 4:10
8 Fain'd Vestall 3:00 (Instrumental)
9 Breake of Day (Acoustic Version) 3:14
Synchronicity3
Sergio Chierici: lead vocal, Roland AX-Synth
Marco Scala: bass
Massimo Brunetti: drums
Anna Caprioli, Sara Piastri: backing vocals
Lyrics: John Donne (1572-1631)
Original music by Sergio Chierici
Produced by Ema Vinci
Recorded at Ema Service studio
(except drums in Fain'd vestall recorded in Rock Tribe La Spezia)
Sound Engineer: Marco Cardone
Front cover photography: Studio Billy
Graphic design: Michela Mori
Many thanks: to Anne More and all the muses; to Edoardo Billi, Roberto Billi, Leonardo Maniscalco, Nicola Naseddu; to all the musicians that played with us and enriched our body of music; to our best friend Nicola Mioli. Special thanks to Gordon, Andy & Stewart.
La versione digitale è disponibile in tutti gli store digitali internazionali.
iTunes
Amazon it
Google play
Spotify