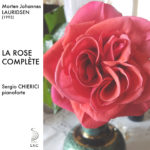 La Rose Complète
Versione per pianoforte solo
Autore: Morten Johannes Lauridsen (1943)
Esecutori: Sergio Chierici, pianoforte
Formato: Singolo digitale
©2017 L&C, label Sonus
La Rose Complète è la versione per pianoforte solo di un brano originariamente nato per coro a cappella scritto da Morten Lauridsen. Questa versione rientra nel solco dello spettacolo "Amor Sacro e Amor Profano" (con Fabiola Formiga), che rievoca una situazione emotiva e storica del passato, nel segno del racconto simbolico dell'Usignolo e la Rosa. L'andamento lento e sospirato si adatta al contesto artistico generale del programma, così come il caratteristico suono di scuola viennese.
La Rose Complète is the piano solo version of the composition "a cappella" written by Morten Lauridsen, performed at the piano in the wake of the show "Sacred and Profane Love" (with Fabiola Formiga), which evokes an emotional and historical situation of the past, in the name of the symbolic tale "The Nightingale and the Rose". The slow and sighed pace adapts to the general artistic context of the program, as well as the characteristic of the Viennese school sound.
1 – Lauridsen, La rose complète 4:08
Foto di copertina di Fabiola Formiga
Registrato e mixato da Sergio Chierici presso ArtisImago
Disponibile in tutti gli store digitali internazionali.
iTunes
Spotify
Deezer
Google play
Amazon
info@sonus-promo.it