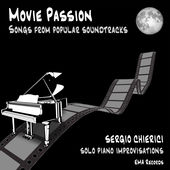 Movie Passion, Vol. 1
Songs from popular soundtracks
Autore: musiche da film arrangiate per pianoforte solo da Sergio Chierici
Esecutori: Sergio Chierici, pianoforte
Formato: EP digitale
©2015 EMA Vinci
Movie Passion è il primo volume di una raccolta di celebri melodie tratte da altrettanto celebri film. Partendo dalle musiche originali, si è realizzata una trasformazione ritmica e armonica delle composizioni, con un adattamento alla timbrica e alle caratteristiche del pianoforte solo, facendo quindi ricorso all'improvvisazione. Il risultato è il richiamo alle atmosfere e alle sensazioni originarie dei film e delle colonne sonore, ma dando al gruppo di brani una luce poetica differente, e una rinnovata unità.
1 – Guaranteed (From "Into the Wild") 4:07
2 – Once Upon a Time in America (From "Once Upon a Time in America") 2:39
3 – Streets of Philadelphia (From "Philadelphia") 3:38
4 – Against All Odds (Take a Look at Me Now) [From "Against All Odds"] 4:48
5 – Smile (From "Modern Times")
Autori originari:
1 – Eddie Vedder
2 – Ennio Morricone
3 – Bruce Springsteen
4 – Phil Collins
5 – Charlie Chaplin
Copertina di Sergio Chierici da un'idea di Sara Piastri
La versione digitale è disponibile in tutti gli store digitali internazionali.
iTunes
Amazon it
Google play
Spotify
info@sonus-promo.it